Disney Sweatshop Action
The National Labor Committee is coordinating a solidarity campaign for victimized workers sewing Disney branded clothing at the Shah Makdhum sweatshop factory in Dhaka.
The Progressive Bengali Network ran a series of actions in front of the Disney Store in Union Square, San Francisco, during the last three Saturdays before Christmas 2002. We talked to over a thousand people, raising consumer awareness of the issue, and helping facilitate public feedback to the Disney corporation in support of the workers.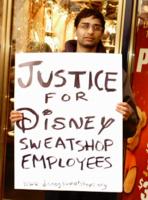 Take a look at the NLC site for more details on the issue.
Contact us for details if you're interested in getting involved.
Online? Here's how you can help: