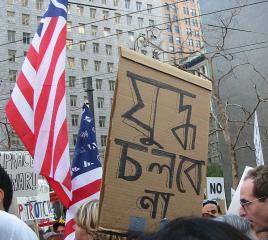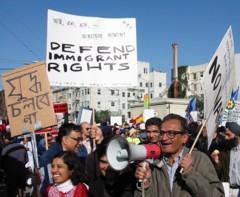 Anti-War Demos
Spring 2003
The Progressive Bengali Network joined up with ASATA, Trikone, and other groups as part of the South Asian and People of Color contingents at a number of the big anti-war marches in the Bay Area -- January 18 (SF), February 16 (SF), March 15 (SF), and April 12 (Oakland). We also had members out at the weekly Tri-City Peace Action vigils in Fremont.
PBN constituted a small, but loud, portion of the hundreds of thousands of Bay Area residents who came out to oppose unilateral US war on Iraq.
Some of us carried signs in English and Bengali, decrying the war and protesting INS registration policies, and had crowds chanting "juddho noy / shanti chai" ("no war / we want peace"). Never underestimate the power of a Bengali with a bullhorn.