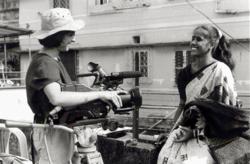 Tales of the Night Fairies
August 30, 2003
Join PBN for the screening of a new Bengali documentary at Trikone's QFilmistan festival.
Tales of the Night Fairies (director: Shohini Ghosh, India, 2002, 74 min.) is a groundbreaking documentary made by queer academic activist Shohini Ghosh about the struggles of a collective of about 60,000 sex workers in West Bengal, India who come together to fight for their legal and social rights. Through the stories of five sex workers (four women and one man) working in different red-light areas of Calcutta, the documentary makes an important feminist intervention into the divisive debate around the issues of trafficking and sex work. Pushing the envelope of sexual choice and self determination, the film shows how the collective deals with both the sexism of men and the heterosexism of some feminists to create deeply thoughtful ways of addressing what happens when sex becomes public and for profit.
(Blurbs from Trikone)