Films by Bengali directors at Traveling Film South Asia 2004
Sunday, March 14, 2004, 3:00-6:00 pm
Mission Cultural Center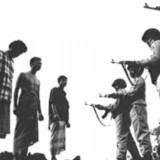 Shei Rater Kotha Bolte Eshechi (Tale of the Darkest Night) tells the story of the killings by the Pakistani army in Dhaka University. Surviving members and witnesses speak, and bring alive the havoc of that night. Directed by Kawsar Chowdhury. More details...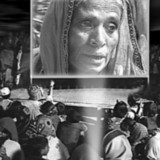 Muktir Kotha (Words of Freedom) tells the true story of musicians travelling through the refugee camps and zones of war during the Bangladesh Liberation War in 1971. The film blends documentary and fictional genres in a musical structure to tell the story of the birth of a nation and the ideals of secularism and tolerance on which it was founded. Directed by Tareque and Catherine Masud. More details...
---
Friday, March 26, 2004, 6:00-10:00 pm
India Community Center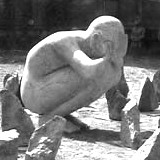 Made in India. A rural artist paints her autobiography, images of Bollywood movie icons are erased after a week-long run of their films, the national flag flutters on 150 kites, installation artists paint pop icons on the rolling shutters of shops, religious icons jostle for attention with plastic flowers on the vendor's cart, after the WTC the sale of toy planes goes up. Symbols of nationalism become a fashionable commodity. Made in India is about contemporary visual cultures in India. Directed by Madhusree Dutta. Shown with two other films. More details...
---
Sunday, March 28, 2004, 11:30am-1:30pm
India Community Center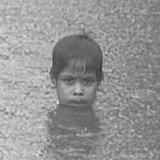 Sand and Water. The shoals of the Jamuna River are submerged in water during monsoon season, and in winter they are transformed into a desert-like landscape. Despite the harsh natural conditions, the people who live there are upbeat and do not want to move away. Bangladesh, often portrayed as a country plagued by flood damage, is depicted through efforts to coexist with a river. This film documents the lives of the people who work primarily as farmers on one of the country's great rivers, the Brahmaputra. Directed by Shaheen Dill-Riaz. More details...
(All blurbs from Ekta)